Area Attractions in Coiba National Park
Sea Kayaks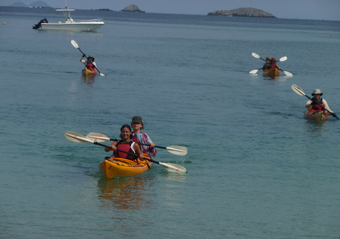 Photo Courtesy Fluid Adventures Panama
Departing from Santa Catalina you would head to Coiba via motor boat hoping to view shore birds, dolphins and sea turtles en route. Whales are even seen in season.
Upon getting to Coiba, say goodbye to the boat and hello to the riches of Coiba and sea kayaks. Sea turtles, rays, sharks, monkeys, shore birds, agoutis and even whalesharks are some of the wildlife to be enjoyed. This is a great way to explore the area in a quiet and unintrusive manner so as to not disrupt the activities of wildlife.
Either camping on a secluded beach or staying in the comfort of the ANAM ranger station, kayak tours to Coiba allow you to spend the day exploring beaches, observing wildlife, snorkeling, hiking and chilling. We have partnered with Fluid Adventures Panama who will look after all the details - a fully guided outfit, while you get to enjoy and explore Coiba.
For more info and to book a kayak tour, please contact michael@fluidadventurespanama.com