Area Attractions in Coiba National Park
Wildlife and Ecotours
Ecotours and Hiking in Coiba National Park are breathtaking and unique. On the main island, 80% comprises "untouched" tropical rainforest. Most trails go through mature, secondary and of course primary "undisturbed by man" rain forest. It is a mature forest that is generally easy to walk through. To view a detailed map of the island please click here.
Featured Trails
Sendero Los Pozos Termales (Hot Springs Trail)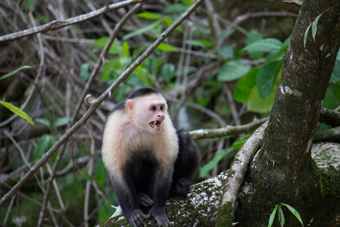 Photo Courtesy Fluid Adventures Panama
Located at the south-west end of the geological fault that divides the island of Coiba (in a north-east/south-west direction) the trail head is in close proximity to the old penal colony just south east of Bahía Damas. You enter the trail at a small rocky/pebble stone beach by the name of Playa Venado. This is a flat- one way in and out- trail that is 750 meters from start to the end where the thermal hot water pools are found.
Flanked by steep primary rain-forest on the south side and Mangrove forest (primarily Walking or Red Mangrove) on the north side of the trail, a wide variety of flora and fauna can be found. The first 50 meters are full of Heliconia and plenty of hummingbirds, including the Blue-throated Goldentail and the Scaly-breasted Hummingbird.
The main attraction here has to be the endemic Coiba Spinetail, more often observed here than anywhere else on the island. The endemic Brown-backed Dove is also easily found on this beautiful trail as well as both Howler and White-faced Monkeys. Big Espave trees along with huge Balsa trees sporadically line the trail. Scarlet Macaws are also often heard and/or seen flying between the two primary habitats.
Once at the thermal hot pools, look for soaring King Vultures among the many other feathered friends in the sky. The pools are hot and typically not that inviting to jump in. Perhaps a soaking of the feet is something more inclined for the hot, sweaty, adventurer.
This is a tide sensitive spot. Getting to the entrance can be a long, difficult walk through a not-so-soft mud flat at low tide. Be sure your tour guide knows the tides and be prepared to walk a distance from the boat's drop off to/from the trail head.
Sendero Cerro Gambute (Gambute Peak Trail)
This trail is all about the view. Well... not if you include the monkeys, King Vultures, and Red-rumped Woodpeckers that you can find along the steep ascent to the top. The trail is located right at the ANAM Station at Playa Gambute. From the ANAM Station it is a relatively short and steep climb of approximately 200 meters to the top. A spectacular view of the station below as well as breathtaking views of many small islets in the surrounding vicinity makes this a favorite for many. A mix of secondary and primary forest allows one to experience the jungle and the canopy forest all in one short hike. This tour could be difficult in wet and muddy conditions.
Sendero de Los Monos (Monkey Trail)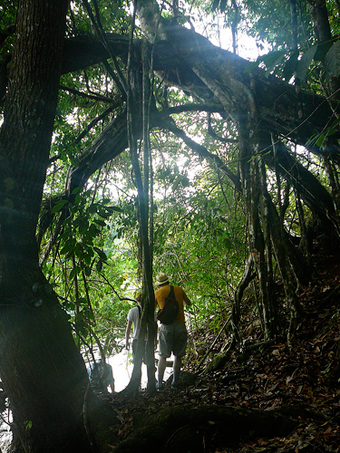 Photo Courtesy Fluid Adventures Panama
Just over a kilometer in length, the trail lies almost directly in front of Isla Granito de Oro - between Punta La Marquesa and El Tigrón. Its U shape allows one to enter the forest on one end and finish or exit on the other - first being dropped off and then picked up by boat. Entering on the southern end, the trail starts from a beautiful sandy beach with coconut palms, Majaguillo bush, wild almonds, and a spectacular Ceiba Tree. White-faced monkeys are often seen here beach combing before one even enters the forest.
Upon entering, one comes across a mature secondary forest characterized by an incredible amount of lianas hanging from the trunks and branches of mature trees such as: María, Secuara, Tangaré, Maquenque, Níspero and Maya y Coco de Mono. The trail is easy to walk through with lots of shade provided by a lush canopy above.
The exuberant vegetation includes sections of virgin or un-touched, primary forest where a number of bird species can be observed: Bi-colored Hawk, White-throated Thrush, Lance-tailed Manakin, and the endemic Brown-backed Dove among others. Of course the Howler Monkeys are also often observed and always heard. Exiting by way of a creek, one comes up to a huge Fig Strangler. A few last rocky steps and you're back at the ocean's edge where Fiddler Crabs, molluscs, crustaceans, and other tidal marine life can be observed.
Overall this trail is of medium difficulty and is great for combining with a snorkel at Isla Granito de Oro.