Coiba National Park Tours
Traveling to Coiba Island by boat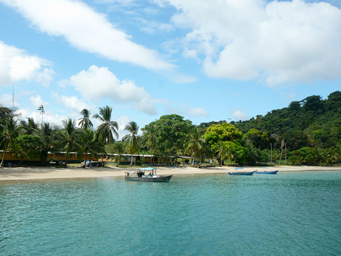 Photo Courtesy Fluid Adventures Panama
Coiba National Park is a Marine UNESCO heritage site located in the Pacific Ocean approximately 25 nautical miles WSW from Santa Catalina. Due to it's unique location most people experience Coiba National Park via tour providers and dive operators or commission local boat captains from Santa Catalina, Puerto Mutis or El Banco.
Many providers in Santa Catalina offer day tours to Coiba and multi-day tours are available as well to increase the likelihood of viewing sea turtles, sharks, rays, pelagic fish and coral. The park is accessible only by permit from the National Authority for the Environment (Autoridad Nacional del Ambiente - ANAM). The only overnight facility available is at the ANAM ranger station on Isla Coiba. The station offers several modest 2 room cabins with air conditioning.
To contact tour providers and make arrangements to visit the park, please email michael@fluidadventurespanama.com, javier@birdcoiba.com, info@scubacoiba.com, check out santacatalinabeach.com or make arrangements as you get into Santa Catalina. For accommodation in Santa Catalina visit Rancho Estero or santacatalinabeach.com.
If you are interested in making your own reservations and arrangements, please contact ANAM by calling 011-507-998-0615, fax 011-507-998-4387, or contact the National Park office at 011-507-998-4271.